Alright peoples I am in the mood for some random fighting and stuff so i made this special place for anyone who wishes to join me in my liking to cause destruction and just a place where we can fight each other. I will start off by making a setting but feel free to change things up to whatever you like or go along with what I have and just in case i didn't mention this already its a fun place to beat each other up XD

*Out in the middle of some place in somewhere lies a small yet distant place that mostly looks like a black void of nowhereness. In this place many things exist but most of all anything goes. You could think of this as a simulation like training ground where a highly advanced computer makes things for people to interact with or you could think of it as the minds imagination either way you get the same thing.

Currently in this place a long man stands thinking of an old western like setting what ya know a awesome looking sandbox as some would call it appears with plenty of buildings and other wonderful things to destroy. Hell you could even call this a remake of Tatooine but either way it was now his personal battle ground to unload a ton of anger management problems and other things that he can't express in the universe.*
*Since Drake had been sitting around for a while now and no one had come around to get thrown around by him he had gotten really really bored. So he started to make sand castles and got a little carried away and made a sand city that was actually life size. He was very happy with his work and so he started to make random targets or as he called them outlaws and he started to shoot them for fun.

Yes its sad and pathetic but it was how he wasted time as he waited for something to happen or someone to come along. He was hoping for something to destroy well not his sand city there was a real city right next to it for destroying.*
*From out of no where three blaster bolts come screaming towards Drake. For reasons unknown to him their was a bounty on his head which was pretty high which brought about very skilled hunters.*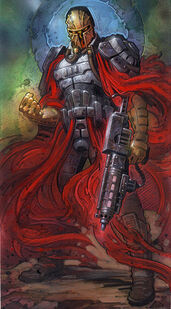 "Come make this simple and just die, I would rather not have to get sand in my armor."
*The hunter said firing off two more shots from his blaster rifle.*
*Drake had just finished making his newest sand persona and thought he would name it Bob and they would be best friends. Then suddenly out of nowhere a blaster bolt takes Bob's head off and out of instinct Drake hits the ground as two more fly over his head.

As he lies there with his hands over his head he sees Bob's head fall in front of him and his face takes one of pure shock. Then another blaster bolt sends the rest of Bob's head into a pile of sand and the makes Drake scramble back to his feet only to dive for cover behind one of his sand buildings as another blaster bolt hits the ground where he had been.*

Oh hell no not after what you just did my friend now its war.
*The hunter sighs.*

"Fine we can have it your way."

*He said and raised his blaster rifle with both hands. This time he fired off a thermal detonator at Drake. It whooshed through the air and was set to explode on impact.*

"I can't wait to silence your whining."
*For a short moment Drake peeked out from behind the building only to see the man fire a thermal detonator at him and well of course Drake was saying all kinds of swear words in his head as he ran from the building to dive behind another one. As he did sand flew everywhere and well he was now covered in it so when he stood up stumbling for a moment he basically coughed up some sand.

He looked down at himself seeing he was covered in sand and just glared at the other hunter who now had a mark on his head. He pulled out both of his pistols and shot some shots not at the hunter but at the sand building next to him to make it collapse on him and get sand in his armor.*

Why don't you come over here and fight like a man or you to chicken to face me?
*The hunter dove and rolled to the right. He shook his head in anger trying to get sand out and then raised the rifle again this time firing three thermal detonators.*

"I will come over there when you are lying dead on the ground."

*As more sand filled the air as when the detonators exploded the hunter fired his blaster rifle blindly in the direction he know Drake to be last. He doubted he would hit him yet hopefully it would at least shut him up.*
Similar topics
---
Permissions in this forum:
You
cannot
reply to topics in this forum