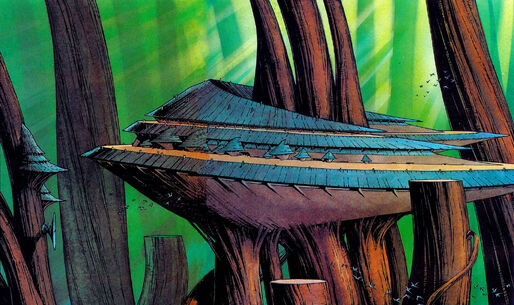 Rwookrrorro is the capital of Kashyyyk.
Admin




Posts

: 98


Join date

: 2011-11-02



=Gaar'urra=

While Jaccien was off fighting, he had sent Gaar'urra to Kashyyyk to make sure his allies warriors were up to par. He had been here for awhile and had gotten to know the local tribes leaders, and had been training with the local militia. He was sure that these wookiees were up to par on modern fighting.
Gaar loved it here, he wished he would never have to leave, but eventually Jaccien would need him, and he had to fulfill his life debt.
Gaar had become an influential figure here on Kashyyyk. Him and his Mandalorian vode had helped the wookiees a great deal in hunting and fighting techniques and have seemed to become more loyal to him than the GA.

Gaar found this would be useful for the future, for he had just gotten orders from Jaccien not to trust anyone in the GA, or for that matter any Jedi.
Gaar had gotten the trust of the wookiee chieftains. Through this power he convinced them to raise and army with whatever weapons and technology that they could find. Gaar had a strange suspicion of things to come, and in fact he was right.
---
Permissions in this forum:
You
cannot
reply to topics in this forum